Bow / Bay / Garden Windows


Make your room feel bigger and more beautiful
Bow and Bay windows extend your room. Bow and Bay Windows can add an especially beautiful effect by enlarging the room and bringing more light into your home.

Bow and Bay windows can add grace and beauty to a living room or master bedroom.

Garden windows are the perfect place for your plants to grow. Garden windows bring extra sun into your home, keeping your plants healthy and green.

Garden Windows are most popular in a kitchen, where you can also keep fresh herbs like basil and parsley.
Energy Savings
Pegas Windows can reduce your monthly energy bills by up to one-third!
LoE3-366 glass blocks 95% of the sun's ultraviolet rays
Duralite Spacer keeps the air in your window sealed
Dual weather-stripping keeps the air tightly sealed behind the sash
7/8" glass is optimal for energy efficiency
Easy to clean
Our windows are engineered to be very easy to clean. If your home is over 10 years old, your cleaning time can go down from 8 hours to just 2 hours by upgrading to Pegas Windows. Imagine how much more time you will have to spend with your family!
Warranty
Pegas Windows offers a Limited Lifetime Warranty standard with every window.
Color Options
Exterior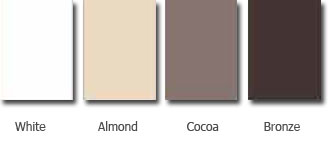 Interior