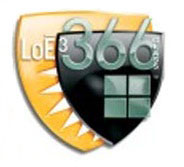 LoE3-366
The Ultimate in Energy Efficiency
After years of research, the ultimate performance glass has arrived. LoE
3
-366 keeps your home at the best temperature - cool in the summer, warm in the winter.
Low-E366 glass – keep your home comfortable
Since LoE
3
-366 glass is much better at insulating your home from the weather outside, your entire room will be more comfortable.
You won't have to worry about feeling drafts from your window.
The high performance glass acts as a shield, protecting your home from the weather outside. It is perfect for our weather in Midwest, with our brutally cold winters and hot sweltering summers.
Below is a comparison of how the glass stacks up against other options:

Save money on your energy bills
One of our customers' favorite features of LoE
3
-366 glass is how green it is – as in saving you green dollars in your pocket. Energy efficiency doesn't just make your home more comfortable – it saves you real money on your utility bills. An average home spends $1,500 per year on energy costs. LoE
3
-366 has been shown to reduce that by one-third, saving you serious money each year.
Keep your furniture from fading
LoE
3
-366 glass blocks 95% of all UV rays. This means that your furniture and carpets will be protected from fading, and will keep their vibrant colors much longer. LoE
3
-366 glass will also protect the art hanging in your living room, or your family portrait, and keep them looking great year after year.
How it works
Our engineers designed LoE
3
-366 glass with a triple layer of silver. This lets in more visible light, and keeps the UV light out. See how it compares with regular glass below:
Interested in having LoE3-366 glass in your home?