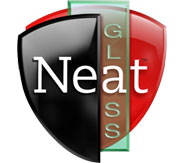 Neat Glass
Let the rain clean your windows
One of our newest features, Neat Glass literally allows the rain to clean your windows for you. Instead of cleaning your windows, you will be able to spend time with your family and friends, reading a book, or just relaxing.
How it works
Neat Glass is extremely smooth – so water and dirt do not stick to it. If there are any smudges on the glass, a little rain will wash them off for you. Neat Glass also has a Titanium Dioxide layer on the outside. Titanium Dioxide reacts with the sun's UV rays, causing organic materials on the glass to decompose. Together with the sun and the rain, your windows are washed and kept clean.

More Visibility and Energy Savings
The Neat Glass coating also makes your windows clearer and less reflective. This means that you can see more outside, and your room will be brighter.
Neat Glass
is perfect for a window with a great view, or for your dining room opening up to your backyard.
Neat Glass also includes a
LoE3-366 coating
that makes your windows ultra-energy efficient.
If you'd like to find out more about our Neat Glass windows: