Duralite Spacer
A spacer is the seal between the two pieces of glass. It keeps the pieces of glass separate.
Pegas Windows uses a Duralite spacer – an advanced foam material that keeps the seal tight and prevents air from leaking through. The Duralite spacer has many advantages over the standard spacer used by other companies:
Energy Savings
Since the Duralite spacer is made out of a foam material instead of metal, it prevents heat from passing through the window. The Duralite spacer is 50% more energy-efficient than a traditional aluminum spacer.
See our video for a comparison:

Prevents Condensation
A traditional spacer can leak air when the glass expands or contracts with heat or pressure.
Our Duralite spacer is built to seal tightly against the edges of the glass. This prevents air from leaking through, and condensing on the inside of your window. This will keep your windows looking good, year after year, in a variety of temperatures and humidity.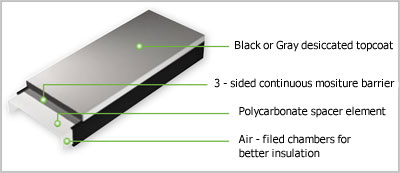 Prevents Mold
Once condensation happens inside your window, it can be difficult for it to evaporate. This leads to mold and fungus growing inside your window.
Duralite keeps your window clean and healthy. This is especially important if you have young children or pets in the house.
Keeps Out the Noise
The Duralite spacer also reduces noise from coming in from outside, by lowering the volume of the sound before it transfers through into your home.
Want to learn more about Duralite, or what it would take to install it in your home?